Part three of my seasonal baking adventures comes from Germany. Stollen is a sugar dusted sweet bread filled with dried fruits and almonds or marzipan that originated in the city of Dresden in Saxony. I decided to give a sourdough version a go and found an easy to follow recipe on virtuousbread. I halved the recipe and made a few small changes here and there, one of which was that I opted to use Cointreau for soaking the fruit because I thought the orange-y tang would suit it well. The verdict? The dough was quite delicate to work with and tore easily after I folded the fruit in (probably too much moisture), so the shape is less than perfect, but that's immaterial once you take a bite!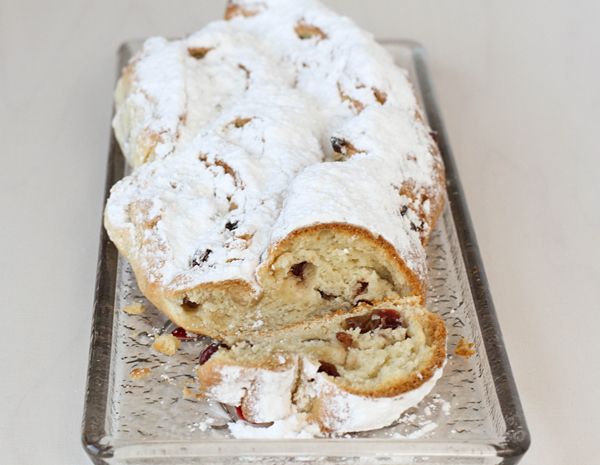 Makes one large or two small loaves
Ingredients
1 generous cup dried fruit (I used sultanas, cranberries and candied lemon peel)
120ml Cointreau (or rum, brandy, Grand Marnier or juice for an alcohol-free version)
250g 100% hydration sourdough starter
125g whole milk, lukewarm
500g all-purpose (plain) flour
75g sugar
115g unsalted butter, room temperature, cut into small pieces
1/4 tsp salt
stick of marzipan (optional, or you can add 125g slivered almonds instead)
2 tbsp butter, melted
fine white sugar
powdered (confectioner's) sugar
Directions
The evening before you want to bake:
Put the fruit in a bowl and pour over the alcohol. Cover and set aside overnight at room temperature.
Mix the starter with the lukewarm milk, 250g flour and 1 tablespoon sugar. It will be quite stiff, so you may need to mix by hand. Cover and set aside overnight to ferment at room temperature.
The following morning:
Add the remaining flour, sugar, butter and salt. Knead for 10 – 15 minutes, until soft, adjusting consistency with flour or butter if needed. Let the kneaded dough rest in a buttered, covered bowl for 1 hour.
Turn dough out onto a lightly floured surface and gently stretch out to an oval about 1cm thick and sprinkle with the drained soaked fruit (and slivered almonds, if using), then roll and fold dough into a ball. Return to the bowl, cover and let rest for 2 hours.
Turn the dough out onto a lightly floured surface and shape into a long oval. Using a thin rolling pin or the side of your hand, press into it lengthwise along the entire length of the dough, just off-centre. If using marzipan, roll the stick on the bench with your hands until it's the same length as your loaf then put it in the indentation. Fold the slightly narrower side into the middle and the other side over the top. Gently pinch the seam and ends closed.
Place the loaf on a parchment-lined baking tray, cover and let it rest for two hours.
Preheat the oven to 250°C.
Place the stollen in the oven and reduce heat to 180°C. Bake for 50 minutes.
When done, remove from the oven and brush generously with melted butter while still warm. Sprinkle with white sugar, shake off excess then dust heavily with icing sugar. Let cool completely before cutting.
*****
Submitted to Yeastspotting